What is Crossfit
Crossfit is a new type of an extreme sport. Men and women alike are diving into this incredible fitness routine. It does not focus on just one type of activity such as running, swimming, lifting, squating. It focuses on being able to do all of the above and more. The main idea is the strength.
Crossfit exercises do not only include gym equipment, but also some which most people would not consider a fitness equipment. One of the biggest examples are the truck tires. Crossfit participants get pumped up to turn truck tires for a certain distances, additionally tires can be stacked up so that a person can jump on top of the tires (the more tires added the harder it is.)
Crossfit all about about building confidence along with lean muscle.
How To Do Burpees The Right Way
Reebok CrossFit Nano 2.0 - Mens
Crossfit Nano shoes were developed specifically for crossit by Reebok. Reebok is the official Crossfit games sponsor and has an amazing array of Crossfit shoes which are designed with Crossfitters in mind. Crossfit Nano shoes are designed for lateral support, and a low profile platform that balances cushioning and stability so you can be quick, safe and comfortable through even the toughest WODs.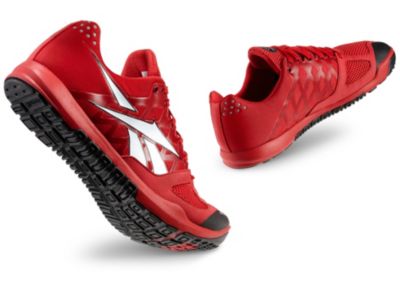 Reebok CrossFit Nano 2.0 - Womens
Here are the same Nano 2.0 shoes for women. I just love these colors, especially the blue and red shoe. Bright colors are definitely in right now. These babies come in 17 different colors!! Most companies only make about 5 or 6 different colors of the same shoe, Reebok went all out to match everyone's individuality. How Fun!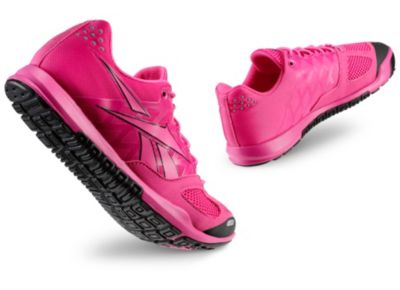 A Closer Look At Crossfit
What Kind Of Crossfit Shoes Are You Looking For?
Why Crossfit Requires Special Shoes
I'm sure you have seen running shoe, tennis shoe, and basketball shoe section in most sporting goods stores. The reasons they differ is because they provide certain support and different functions which go well with a specific sport. Similarly, while doing crossfit it is necessary to have a good shoe for supporting all of the exercises.

A shoe should be sturdy enough to take enough pounding while doing many jumping and running. Another angle to crossfit is that a shoe should be stable enough for powerlifting. Most people get two or three different types of shoes for different activities during a crossfit session. What's great about the Crossfit shoes listed below is that most of them can be used for all WODs without doing any switching from shoe to shoe. It saves time and keeps your head in the game 100%.
Crossfit Nano 2.0 American Flag
Here's a pretty cool Reebok Nano 2.0 which was create through the personalize option. You can get this American Flag one or
Personalize Your Own Now.
First choose Men's, Women's, Boy's or Girls. Next choose the type of shoe you would like to design and lastly choose all of the colors for your shoe. Have Fun!
Reebok Crossfit Oly U-Form
These shoes are made for crossfit and are very sturdy for the powerlifting. They are extremely light as well as durable for all of those hard Crossfit WODs. Your foot will be able to breathe through the perforated medial and lateral upper components.Toss these babies in the oven at 200 degrees Fahrenheit for 3 minutes to shape them to your foot.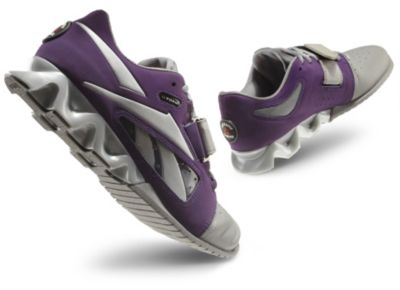 Crossfit Oly U-Form For Men
Crossfit Oly U-Form For Women
New Balance Minimus - Affordable Crossfit Shoes
Amazing lightweight shoes which can be utilized during many of the crossfit activities. What I love about these is that I don't even feel them on my feet. They are much cheaper than most of the other Crossfit shoes, but they still provide the functionality needed to perform intense exercises.
Minimus shoes come with different heel to toe drop sizes and New Balance has even created a Zero drop Minimus shoe with a zero heel to toe drop for an ultimate minimal shoe.
You can wear them on bare foot or get a size up to wear them with a sock. I prefer wearing socks during my workout, but it really depends on your preference.
Vibram Running Shoes
These shoes are sweeping the nation. They are very comfortable and can be wore on bare foot (if you don't like to go barefoot then you can also get toe socks to wear with these shoes). These shoes are very minimal and can work great for many of the crossfit WODs. I love to wear my Vibrams for running or weight training, it literally feels like I am not wearing any extra weight on my feet, but they are still protected.

Note: These shoes come in European sizes

Vibram Fivefingers Speed Mens Running Black/White/Black



Vibram FiveFingers Speed Running Shoes


Adidas AdiPower Weightlifting
Nike Free
These are minimalist shoes. If you like the feeling of barefoot then these shoes are for you! Perfect for Crossfit WODs. They breathe very well and will give your foot enough support. These shoes are extremely flexible as you can bend the toe of the shoe toward the heel all the way in your hands with not much resistance. These shoes are also great for any lateral exercises.

You can use these for Crossfit WODs or just to go running.
Pendlay Classics for Weightlifting
These are extremely stable weightlifting shoes. I would not recommend running in them, but if your Crossfit WOD consists of powerlifting exercises then this is a great one to get.
Merrell Pace Glove Review
This running shoe is extremely breathable and comfortable. It provides a glove-like fit and great stability for all runners.You can also wear this shoe on a barefoot. Merrell Pace Glove contains Vibram technology in the sole and is great for flexibility and traction for any exercises.

What's really awesome about these shoes is that you can simply throw them in the wash and have a fresh pair waiting for you for your next workout.
Get Healthy With Rada
Join Us on Facebook for daily inspiration, motivation, and tips on getting healthy and fit.
Facebook Fan box widget may not always appear in the Workshop. Please preview or publish your lens to see the widget.
Other Related Lenses You May Find Useful
Love Crossfit? Give Us A Thumbs Up!
This module only appears with actual data when viewed on a live lens. The favorite and lensroll options will appear on a live lens if the viewer is a member of Squidoo and logged in.
Or Bookmark This Page
What Is Your Favorite Crossfit Shoe?